IQAC Functions
About IQAC
As per National Assessment and Accreditation Council (NAAC) guidelines every accredited institution should establish an Internal Quality Assurance Cell (IQAC) as a post-accreditation quality sustenance measure. Since quality enhancement is a continuous process, the IQAC becomes a part of the institution's system and works towards realization of the goals of quality enhancement and sustenance.
The prime task of the IQAC is to develop a system for conscious, consistent and catalytic improvement in the overall performance of institutions.
Internal Quality Assurance Cell (IQAC) of RSCOE
Internal Quality Assurance Cell (IQAC)
| Sr. No | Name | Designation |
| --- | --- | --- |
| 1 | Dr. R. K. Jain, Director RSCOE | Chairman |
| 2 | Prof. S. L. Bhilare, Director, JSPM | Member (Management) |
| 3 | Prof. A. S. Deosthali, Dy. Director RSCOE | Member (Administrative) |
| 4 | Dr. S. G. Kandalkar, Dean (Admin) | Member (Administrative) |
| 5 | Dr. N. S. Mujumdar, Sr. Professor | Teacher Member |
| 6 | Dr. Mrs S.C. Patil, Dean (Research) | Teacher Member |
| 7 | Prof. S.P. Rao Borde, Dean (Student Progression & Industry Relations) | Teacher Member |
| 8 | Dr. A. M. Badadhe, HOD (Mechanical) | Teacher Member |
| 9 | Dr. B. D. Jadhav, HOD (E&Tc) and COE (Examinations) | Teacher Member |
| 10 | Dr. S. V. Kedar, HOD (Computer) & Dean (Academics) | Teacher Member |
| 11 | Dr. R.B. Joshi, HOD (IT) | Teacher Member |
| 12 | Dr. S.M.Yadav, HOD (Engg. Science) | Teacher Member |
| 13 | Dr. S. L. Chavan, HOD (Electrical) | Teacher Member |
| 14 | Dr. R.A. Dubal, HOD (Civil) | Teacher Member |
| 15 | Dr. A.A. Chaudhari, HOD (MBA) | Teacher Member |
| 16 | Prof. R. A. Dullo, HOD (MCA) | Teacher Member |
| 17 | Shri Rajendra Bhise, Principal Consultant ATOS GITSS Pvt.Ltd. Pune | Member ( Local Society) |
| 18 | Mr. Kiran Attarde Gen. Manager, Konecranes Ltd. | Member (Industry) |
| 19 | Mr.Vipul Sharma | Member (Alumni) |
| 20 | Miss Shrerryl Thopil | Member ( Student) |
| 21 | Dr. P.B. Kumbharkar, Dean (Planning & Development) | IQAC, Coordinator |
Strategies
IQAC shall evolve mechanisms and procedures for:
Ensuring timely, efficient and progressive performance of academic, administrative and financial tasks.
The relevance and quality of academic and research programmes.
Equitable access to and affordability of academic programmes for various sections of society
Optimization and integration of modern methods of teaching and learning.
The credibility of evaluation procedures.
Ensuring the adequacy, maintenance and functioning of the support structure and services.
Research sharing and networking with other institutions in India and abroad.
Functions
Some of the functions of the IQAC are:
Development and application of quality benchmarks/parameters for various academic and administrative activities of the institution.
Facilitating the creation of a learner-centric environment conducive to quality education and faculty maturation to adopt the required knowledge and technology for participatory teaching and learning process.
Arrangement for feedback response from students, parents and other stakeholders on quality-related institutional processes.
Dissemination of information on various quality parameters of higher education.
Organization of inter and intra institutional workshops, seminars on quality related themes and promotion of quality circles.
Documentation of the various programmes/activities leading to quality improvement.
Acting as a nodal agency of the Institution for coordinating quality-related activities, including adoption and dissemination of best practices.
Development and maintenance of institutional database through MIS for the purpose of maintaining/enhancing the institutional quality.
Development of Quality Culture in the institution.
Preparation of the Annual Quality Assurance Report (AQAR) as per guidelines and parameters of NAAC, to be submitted to NAAC.
Benefits
IQAC will facilitate/contribute:
Ensure heightened level of clarity and focus in institutional functioning towards quality enhancement.
Ensure internalization of the quality culture.
Ensure enhancement and coordination among various activities of the institution and institutionalize all good practices.
Provide a sound basis for decision-making to improve institutional functioning.
Act as a dynamic system for quality changes in HEIs.
Build an organized methodology of documentation and internal communication.
NAAC
National Assessment and Accreditation Council (NAAC)
Why Accreditation
View
Academic Excellence And Activity Report
View
Internal Quality Assurance Cell (IQAC)
View
Annual Quality Assurance Report – (AQAR)
View
Self Study Report – (SSR)
View
PO, PSO & CO
View
ICT
View
Attainment
View
Code of Conduct
View
Infrastructure SOP
View
Student Satisfaction Survey
Academic Year 2021-22
View
Academic Year 2020-21
View
Academic Year 2019-20
View
Academic Calender
Academic Calender 2021-22
View
Academic Calender 2020-21
View
Academic Calender 2019-20
View
Minutes Of Meeting (MOM)
A.Y. 2021-22
Minutes of First meeting
View
Minutes of Second meeting
View
Minutes of Third meeting
View
A.Y. 2020-21
Minutes of First meeting
View
Minutes of Second meeting
View
Minutes of Third meeting
View
A.Y. 2019-20
Minutes of First meeting
View
Minutes of Second meeting
View
Minutes of Third meeting
View
Institute Best Practices
Best Practices - I (2021-22)
View
Best Practices - II (2021-22)
View
Stakeholder's Report
Feedback Report
View
Feedback Collected
View
NBA
National Board of Accreditation (NBA)
Why NBA Accreditation
"NBA" stands for the National Board of Accreditation which is an accreditation agency representing India in the Washington Accord (WA). The Washington Accord is an agreement between bodies that accredit or recognize higher-level engineering qualifications. NBA is one such autonomous accrediting body in India, which deals with the accreditation of engineering and various technical institutions based on the quality of education being offered. The guidelines outlined by the NBA act as parameters to certify institutions.
The purpose of the accreditation by NBA is to promote and recognize excellence in technical education in colleges and universities - at both the undergraduate and post graduate levels. Accreditation certificate acts as an educational quality assurance factor for students whereas, for an institution, it opens the door to various opportunities like getting autonomous status, funds & grants from the government to improve the operational processes of the institution.
The Rajarshi Shahu College of Engineering offers Eight UG programmes (Bachelor of Technology, BTech) in Electronics & Telecommunication, Computer, Mechanical, Civil, Information Technology, Electrical Engineering, Automation & Robotics, and Computer Science & Business Systems. Six PG programs MTech (Electronics & Telecommunication - VLSI & Embedded Systems), MTech (Computer Engineering) , MTech (Mechanical-Design), MTech (Civil-Structural), MBA, MCA and recognized Ph.D research center in Electronics & Telecommunication, Civil and Mechanical Engineering affiliated to SPPU, Pune. All eligible UG programs have been accredited three times by National Board of Accreditation (NBA) New Delhi.
Outcome based education
Outcome based education is targeted at achieving desirable outcomes (in terms of knowledge, skills, attitudes and behaviour) at the end of a program. Teaching with this awareness and making the associated effort constitutes outcome based education. This entails a regular methodology for ascertaining the attainment of outcomes, and benchmarking these against the program outcomes consistent with the objectives of the program.
In the year 2009, NBA aligned its methodology with international benchmarks and started accreditation on the basis of outcomes. It believes that educational quality must be measured by outcomes rather than inputs, because inputs do not necessarily correlate with quality outcomes. Outcomes are dependent not only on inputs but also on the processes followed by an institution to convert inputs into defined outcomes.
Strategic Development Plan Of RSCOE
Other Rankings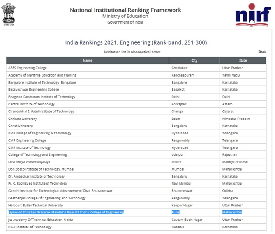 National Institutional Ranking FrameWork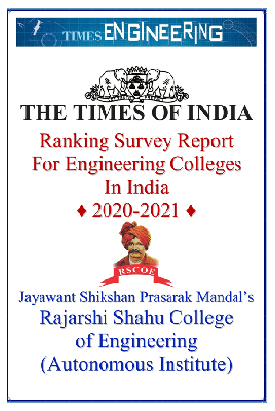 Ranking Survey Report for Engineering Colleges of India 2020-2021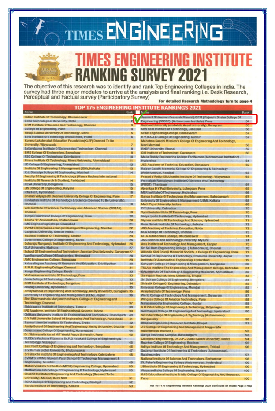 Times Engineering Institute Ranking Survey 2021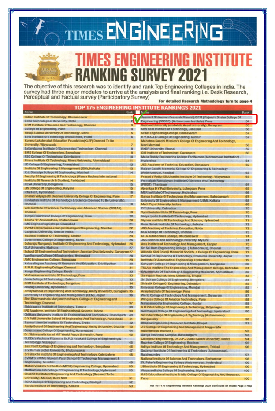 Times Engineering Institute Ranking Survey 2021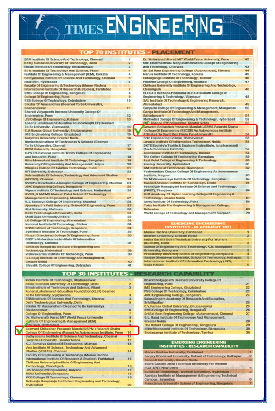 Times Engineering Institute Ranking Survey 2021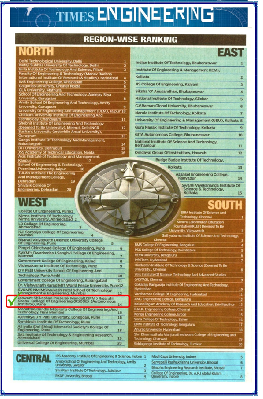 Times Engineering Institute Ranking Survey 2021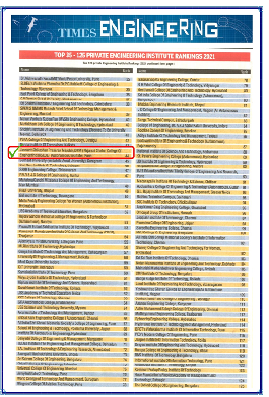 Times Engineering Institute Ranking Survey 2021