Guidance And Counseling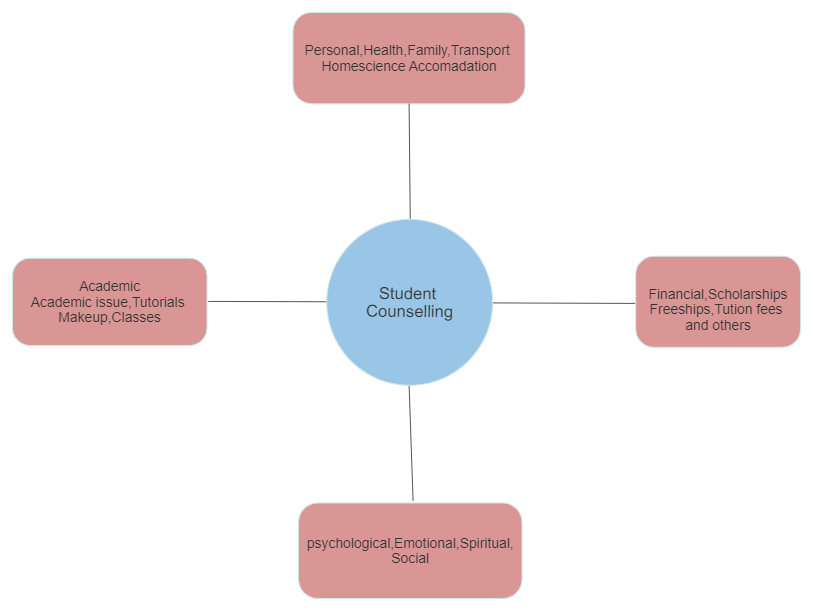 Guidance And Counseling
The institute has a multi monitoring system consist of Academic coordinator, Departmental academic coordinator and GFM.
1. Guardian faculty member (GFM) provides regular counseling to the students to address issues relating to their academic deficit and impediments and their personal and social issues.
2. Provision of separate mentoring hours in time table.
3. Career counseling services are provided by T&P cell, Alumni and Industry experts.uals.

To pursue higher studies, i.e. MS, ME, MBA etc.
Faculty members encourage and motivate the students to appear for various competitive exams like GATE, ATE, CAT, GRE, IES, TOEFL etc. by providing study materials.
Offering recommendations and transcripts for students seeking admission abroad for higher studies.
Library Facility
To Train The Aspirants:
Guidance regarding job profiles offered by different types of industries in and off campus.
Creation of awareness about skill sets expected by potential industries visiting the campus.
Organize sessions by industry experts to guide the students.
Organize industrial visits to provide students an insight regarding work culture of companies.
Organize Group Discussion, Personal Interview, Mock interview and communication skill improvement workshops.
Expert lectures are organized to create awareness about government and public sector services.
Employability Skill development (ESD training) 300 hours training conducted by Zensar
Entrepreneurship
Institute has EDC cell which organizes sessions to motivate students to become an entrepreneur. EDC cell organizes following activities:
1. Conducting different activities to improve entrepreneurial skills.
2. Guidance is provided to start and set up students own "Start-up and Venture".